Back to main Blog

Stephanie Douglass
Sr. Director, Marketing and Operations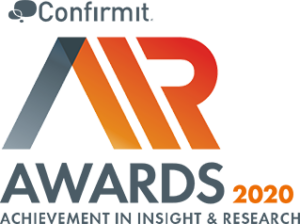 Confirmit AIR Awards Recognize Innovative Leaders in Market Research
New Orleans, LA], October 6, 2020 – Market Dynamics Research Group, Inc. (MDRG, Inc.), a full-service market research firm, has been awarded a 2020 Confirmit AIR (Achievement in Insight and Research) Award in the Project and Innovation category. This recognition stands as a testament to MDRG, Inc.'s dedication and success in delivering outstanding Market Research and insight practices. MDRG, Inc was founded by Sondra Brown in 1994 and has served over 160 clients and has conducted thousands of studies for national, regional, and local brands utilizing its Whole Mind™ approach.
Now in their third year, the prestigious AIR Awards celebrates Confirmit clients committed to driving business success by unlocking powerful insights. Receiving a Confirmit AIR Award demonstrates MDRG's ability to break down the barriers and transform complex data into actionable insights that enable their clients to fuel action. MDRG, Inc. earned the Confirmit AIR Award based on its COVID-19 Consumer Behavior Tracker.
"We are so excited to receive this award for our COVID-19 Consumer Behavior Tracker. Early on our team of data scientists and analysts recognized the unique opportunity to launch a national study to capture how consumers were responding to the COVID-19 pandemic in real-time," said Sondra Brown, MDRG President, and Founder. "Our weekly tracker provided clients with a solid understanding of their customer's behaviors and perceptions during an extremely disruptive, challenging, and rapidly changing time."
"We're delighted to recognize MDRG, Inc. as a 2020 Confirmit AIR Award winner for its excellence in delivering critical insights to its clients," said Kyle Ferguson, CEO of Confirmit. "Combining effective data collection capabilities with actionable and inspiring data interpretation is central to enabling MR businesses to deliver value to their clients. We are proud to partner with MDRG, Inc. as they continue to make this combination possible and drive the future of the MR market forward."
For more information about MDRG please visit www.mdrginc.com. For more information about the 2020 Confirmit AIR Awards, visit For more
---
About the Confirmit AIR Awards
The Confirmit AIR (Achievement in Insight and Research) Awards have been created to recognize innovation and excellence in Market Research and Insight practices. Open exclusively to Confirmit clients, the AIR Awards provide an opportunity for Market Research agencies and enterprise insight teams to showcase their success by demonstrating their commitment to delivering insight that drives business performance.
With over 20 years of experience in driving and supporting the Market Research industry worldwide, Confirmit is delighted to share its clients' successes and honor the people and businesses whose dedication to insight and analytics fuel this dynamic industry. For more information on awards criteria, visit: For more
About Confirmit
Confirmit is the world's leading vendor for Market Research, Customer Experience, and Employee Engagement solutions. Confirmit platforms enable data collection, analysis, visualization, and action management to empower businesses to make smarter decisions that drive business growth. Confirmit supports over 650 clients in more than 50 countries, including many of the world's leading brands.
Confirmit has offices in Australia, Bosnia and Herzegovina, Canada, Germany, Norway, Russia, Sweden, the United Kingdom, and the United States. Confirmit's software is also distributed through partner resellers in Madrid, Milan, and Tokyo. Visit www.confirmit.com for more information.
About MDRG, Inc.
MDRG, Inc. is a full-service market research firm focusing on the core market research disciplines of Brand Research, Customer Experience, Product Development, and Advertising. Established in 1994, MDRG has served over 160 clients and conducted thousands of studies over the last 26 years. MDRG's approach to research is methodical. Identifying the business decision that will be made with the data collected is at the heart of every new proposal. With that foundation, MDRG digs into their suite of instruments curated to offer insight into the whole mind of the consumer. Insight that goes beyond what they think and say, but also delves into how they feel and the emotions and perceptions that can't be articulated through language. It's this Whole Mind Approach grounded in the context of how the data will be used that separate's MDRG from the rest.