Are you trying to make sense of all the data out there and how to use it to make important decisions? Don't worry, we've got you covered!
First things first, data sources can be split into two main categories: primary and secondary. But before you start diving into primary sources, it's a good idea to check out secondary sources first. These are sources that are either publicly available or relatively cheap to access and can serve as the foundation for any analysis or business decision. Just make sure you trust the source, and we can help with that!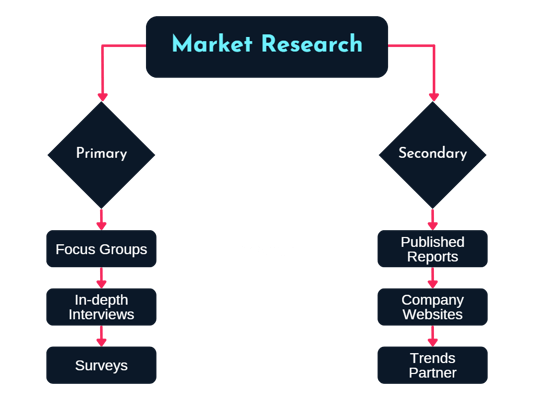 Now, let's take a look at some examples of secondary sources:
Company websites: Public companies often have investor relations sections on their websites that are full of reports and other investor documents. Private companies aren't required to report as much information, so you might not get as much detail. These sources can be great for market sizing, market share analyses, and more.

Government statistics: These are widely available online and cover a wide range of topics, like product shipments, patents, inflation, and more. They can be helpful for market sizing and identifying trends. Just be prepared to do some extra analysis to get the data in a format that works for you.

Industry associations: These groups often share valuable information on their websites, including industry overviews, industry players, and product and company news. Keep in mind that industry data typically only c

overs a certain share of overall activity, so you'll need to do some extra digging to see the whole picture. These sources can be great for market sizing and identifying trends and key players.

Published market research reports: These reports (for a fee) can provide an overview of an industry, including quantitative data on market size, growth rates, and market share for industry players. They might be a bit broad, though, so if you're looking for more specific details on product segments or geographies, you might need to look elsewhere. These reports can be helpful for market sizing and market share analyses.

Statista and ReportLinker are two great resources. (Disclaimer: some of these require fees or subscriptions)

Trade publications: Periodicals and news articles (many of which are online) can be a great source of information on specific industries and companies. Just be aware that they might not always provide the most up-to-date information. These sources can be great for identifying key players and industry trends.
So, what about Primary Data?
Primary data is information that is collected specifically for your needs, directly from people who are part of the industry you're studying. There are a few different ways you can gather primary data, and the method you choose will depend on your research goals and the level of detail you're looking for.
Here are some examples of primary data sources:
So there you have it! A rundown of some secondary and primary data sources that can help you get a handle on all that information out there. We love all of these methods and resources and use them daily. When we are presented with a broad category and industry analysis, we us these methods to narrow down information in order to develop a hypothesis.