Back to main Blog

Stephanie Douglass
Sr. Director, Marketing and Operations
For industries like retail and finance, conversations around brand and consumer experience have moved beyond integrating digital and removing barriers to engagement. These industries are now looking to the Metaverse or Web3 and the future of how consumers want to engage.
In fact, per MDRG's 2022 Customer Experience report, 77% of consumers expect brands to have the ability to use the metaverse for customer service in the next 5 years.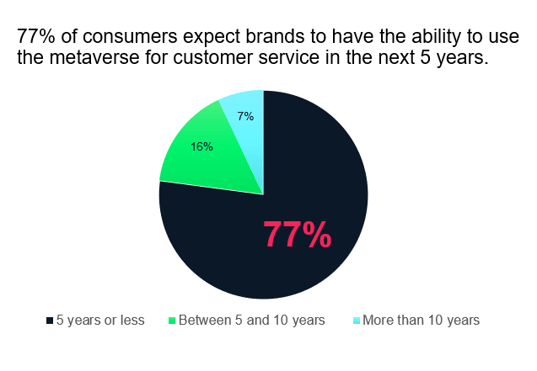 Retail and consumer brands are already ahead of the curve, creating engagement opportunities for their customers in the metaverse like the below examples that can be found in Wunderman Thompson Intelligence's, Into the Metaverse.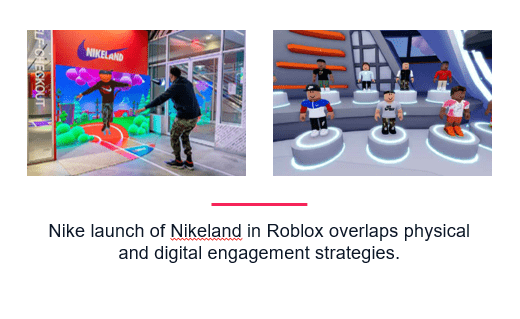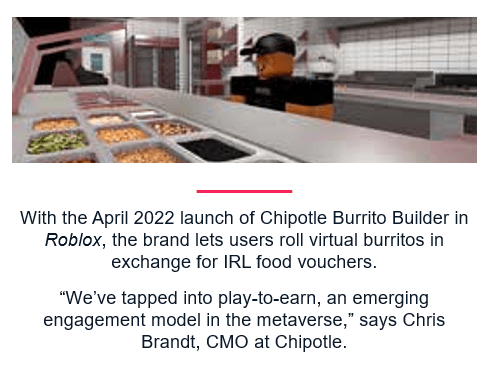 Even in the healthcare space, behemoth brands are encroaching on traditional provider territory and making plans to enter the metaverse. At the end of February 2022, CVS filed a trademark patenting its stores for the metaverse and for sales of virtual goods. The goods include prescription non-emergency medical treatment services such as wellness programs, nutritional consultations, and counseling.
The metaverse could open an entirely new avenue for customer service and personalized care in the mass-market health retail sector. But most providers are still in the beginning stages of digital engagement in general.
H
ealthcare can't think about the experience of the future until they've mastered the experience of the present.
MDRG conducted a State of Healthcare Experience study this year, interviewing more than 22 leaders in healthcare technology and providers over the summer. In this study, we identified what is holding systems back and why disruptors are getting right?
Looking at how we got here today, we understand that healthcare has traditionally been about outcomes. This makes complete sense. After all, no one will return to a place where they had or heard about a terrible outcome. But as we know, consumers no longer think about experiences in a silo. They consider the entirety of their interactions with a brand when considering how to rate their experience. This means how easy it was to schedule the appointment becomes as important as the experience in the doctor's office.
"For providers, they're typically focused on providing care, leading edge medicine and keeping people healthy or treating them when they're sick. [sic] Other administrative aspects are secondary, they're housekeeping. You got to keep the business going, even if you're a nonprofit. Thinking about the patient as a consumer has not been at the forefront."

-VP, Product, Customer & Partner Marketing, Disruptor
Through our research and extensive experience in the space we understand that there are a few very clear advantages disruptors have:
They are born with a consumer 1st mindset

They have a singular focus or expertise

They are agile and flexible
Consequently, they have come across some challenges and exposed advantages that providers have:
Disruptors struggle to understand how to navigate the complexities of healthcare

They lack patient trust
Defining Customer Experience
As systems dive into the task at hand of becoming more accessible and creating a consumer 1st experience, they are beginning to re-define their audience and customer experience.
Systems are beginning to embrace the "consumer" vs. the "patient".
"I remember the very first time I used the word consumer or customer in a presentation…back in the early 2000s in front of a group of physician leaders, and they almost threw me out of the room."

-Chief Marketing and Communications Officer, System
They understand that to maintain market share in all aspects of care, they must consider the entire journey, not just the points in time when someone is a "patient" and receiving care.

How do healthcare providers create an experience that is centered on the customer?
We answer this question in our 2022 State of Healthcare Experience study, but for the eager learner, we identified three key strategies that the most successful providers had in common:
1.
Successful systems are focusing on identifying points of friction and optimizing micro-journeys within the customer experience.
2.
Integrate the Voice of the Consumer
For many, integrating VOC into departments across the system is difficult. Those that are successful make it a requirement.
3. Focus on Engagement
Healthcare providers tend to focus on KPIs that are lagging indicators (NPS, HCAHPS/CGCAHPS, etc.). Those with stellar experiences focus on engagement KPIs and their forward-looking implications.
If you'd like further detail on these three areas download our 2022 State of Healthcare Experience Report.