Back to main Blog

Hannah Pico
Virtual Visits

Help Connect Consumers to Care
Since the onset of the COVID-19 health crisis, telehealth has become very important to consumers. Making healthcare services available online can manage the influx of patients in need of care.
MDRG's COVID-19 Tracker Report found that consumers are feeling worried for their health as states and businesses begin to re-open. In this week's report, connection was a recurring universal symbol. The Metaphor Elicitation activity uncovered that consumers felt positively towards the idea of virtual healthcare visits but believe improvements can be made.
The Prospect of Virtual Visits
Consumers felt hopeful towards the prospect of a virtual healthcare visit. They feel it is a perfect alternative for patients to minimize their risk of infection. Many shared that they would schedule a virtual visit if it were for something routine like refilling a prescription.


Virtual Healthcare Visits Make Some Nervous
However, many shared that they would feel nervous relying solely on virtual healthcare. Consumers shared the following concerns:
• Some feared that medications are too easily available and distributed incorrectly. Virtual visits would increase the number of prescriptions.
• Others felt many tests would be missing from a proper diagnosis as there is only so much that smartphone images and videos could capture during a virtual healthcare visit.
• Others simply would not like communicating with their healthcare provider online and feared it would be difficult to explain their symptoms.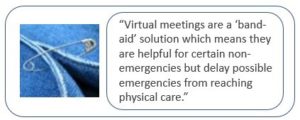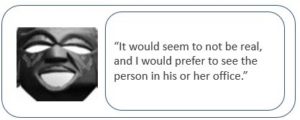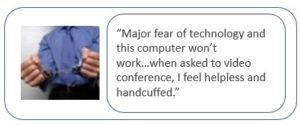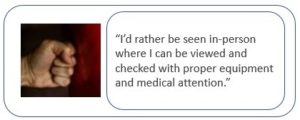 Consumers

Have Positive Experiences

with

Virtual Visits
Consumers scheduled and attended virtual visit felt satisfied with the care they received. Patients felt supported and a partnership by their healthcare team, especially when they couldn't schedule an in-person visit due to the COVID-19 healthcare crisis. Consumers received reassurance from their healthcare provider during these virtual visits.
Telehealth programs make it easier for consumers to connect with their healthcare provider during times of isolation.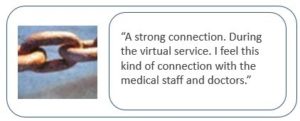 Other
Consumers are on the Fence
About Virtual Visits
Some consumers reported bad experiences with virtual healthcare visits. They explained that they had technical difficulties with their internet and smartphone devices. Others explained that it was hard to communicate their needs to their healthcare providers. A few expressed that their healthcare provider was distracted during the virtual visit. Consumers picked the following images and described why they chose them:

Ultimately,

C

onsumers

L

ike

H

aving the Virtual Healthcare

O

ption
Many felt they received the care needed during their virtual healthcare visit as evidenced below:


Five Telehealth Marketing Strategies
Since the onset of the COVID-19 health crisis, telehealth has become very important to consumers and accelerated the rate of adoption.
Here are five marketing strategies that can be used with telehealth programs:
Creating

an easy-to-use website

and mobile app as c

onsumers are more likely to use a platform if it

feels like

second

nature to use

Providing omni-channel services

to

consumers

Give consumers the ability to use telehealth programs on different technolog

ical

devices (

such as a

computer

or

smartphone)

Consistent and consumer-friendly language throughout

the digital platform

Providing consumers with free

,

quick assessments and worksheets

(For example: an anxiety worksheet)
Key Takeaways for Healthcare Providers
Consumers love the idea of virtual healthcare visits but would like to see improvements. Many consumers seek assurance that they will get the most out of their virtual healthcare visit.
• Consumers think it is a great alternative to in-person care during the COVID-19 health crisis
• Patients who have had virtual healthcare visits feel cared for by their provider.
However, other patients are nervous about being cared for online and express they think some important components of the appointment might be missing.
• Notably, consumers had poor experiences with virtual visits when they felt unheard by their healthcare provider or experienced technological issues.
Telehealth programs serve as an essential resource for consumers during the COVID-19 health crisis. Following the COVID-19 health crisis, telehealth can continue to provide essential care to consumers with chronic health issues.
Tracking Coronavirus's Impact on Consumer Behavior through Market Research
The COVID-19 pandemic is changing the way consumers interact with their environment. As a result, MDRG created a COVID-19 dashboard tracker, a nationwide survey to better understand these quick shifting consumer attitudes, sentiments, and behaviors. Until the coronavirus ceases to impact, MDRG will continue to offer insights from both System 1 and System 2 research methods. As we collect data and release results over the next few weeks, we will highlight areas where behavior and attitudes are changing from week to week.
MDRG used Metaphor Elicitation exercises to capture deep, subconscious emotions that are difficult to express using just words. Consumers were asked to pick images that help them share their feelings and thoughts towards virtual meeting or the prospect of virtual meetings with healthcare professionals.
Universal symbols help consumers make meaning of their social world. By asking consumers to choose images, respondents have the tools to make metaphorical connections with images and their lives. Metaphor Elicitation can help researchers and marketing teams avoid making any generalizations about what the consumer is feeling.
You can either download MDRG's Week Eight COVID-19 Report or explore our dashboard which is updated weekly with the latest results. To receive the insights straight into your inbox, sign up for our COVID-19 Market Research mailing list here.